Country living
This article originally appeared in the summer 2018 edition of Telegraph magazine. Read it online now.
"I'd like this to be my forever home," Priscilla Bradley-Watson muses as she sits outside her wisteria-clad property. "It's a lot to manage though. It's a full-time job to live here – that's the problem."
The Norfolk-born businesswoman returned to her native county in the year 2000, following a brief spell in Suffolk, having spent two decades living in London while working in the fashion industry. She now runs her own business, The Bradley Collection, from Suffolk, creating luxury curtain tracks, poles and rods for customers around the world.
"Originally I thought we would live nearer to Norwich, but we fell in love with the house and ended up moving here, which wasn't quite the plan! My commute to work now takes about an hour and 20 minutes. Thankfully I don't go in every day – I'm on email and the phone. As I say, I ended up coming here completely by mistake!"
"Here" is a Grade-II-listed country house in the wide open Norfolk countryside; a stunning combination of Georgian architecture and Victorian faux-Tudor façade, set in several acres of grounds, which are filled with animals. Priscilla's two-year-old Rhodesian Ridgeback bounds around the pond, setting fright to the Indian runner ducks and Guinea fowl, while alpacas roam the rear paddock and miniature ponies keep the grass in check.
"The property has evolved over different periods," she continues. "I think there was a house here in the Tudor times, but then a Georgian house was put on one side and a Victorian façade was added in the 19th century."
"There's always something that needs repairing or replacing, that's for sure! It was pretty neglected before the last owners moved in. I believe it was on the Buildings at Risk Register because no one had spent any money on it and left it to rot away. Local authority personnel have been very supportive because I think they're pleased to have someone here who's looking after it."
The garden was dreadful too. It was really overgrown with brambles and you couldn't get around the paddock.
Now the garden's been restored, it's a breathtaking sight, with lush green lawns, a pond filled with rudd, carp, tench and perch, while the horse chestnuts are alive with fresh leaves, the false acacia is covered in vivid blooms, and it's all watched over by one of the largest Oriental plane trees in the country.

Says Priscilla: "I try to keep a bit of it wild, so that we encourage wildlife to come here; I don't keep it too manicured. We've got owls nesting in the woods, we've got woodpeckers and lots of little birds, as well as deer coming through. We try to keep it as a haven for wildlife."
"I live outside in the summer," she adds. "I'm an outdoor person, so I love the garden. We follow the sun around the house; we have breakfast on the terrace in the morning and then the sun goes around the side, so we have afternoon tea there and then, when the sun comes round by the summer house in the evening, we sit out there and have dinner before it sets."

Reliable relationship

Having owned the house for 18 years, Priscilla has added to and restored much of the property, including renovating the coach house and putting a roof over the courtyard. The footings are also in place for the reconstruction of the orangery, which will be built to the original specifications.

"Getting home insurance used to be a problem," she explains. "When I first moved here I continued with the previous owners' insurance because it can be difficult to arrange. A place like this is so unusual. There aren't many companies out there that are interested in taking it on. Most insurers would rather focus on a standard four-bedroom house. This house needs something more bespoke."

"My brother recommended Alan Boswell Group because he was using them as his insurance broker. Mark [Linehan] came out to have a look around and he managed to arrange comprehensive and competitive cover – and that was in 2006."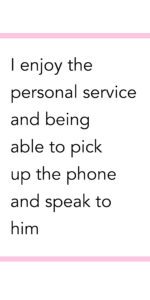 "I'm still with the same insurer, even though Mark regularly searches the market for a better deal. It's great working with him. I enjoy the personal service and being able to pick up the phone and speak to him. He is very reliable and gets straight back to me. He comes to see me every year to review the policy – he stops by for a cup of tea and a few biscuits."

"[Alan Boswell Group] now insures the house, the cars and even the business, as well as most of my family's insurance. It's all in the family!"

More than bricks and mortar

When it comes to making claims on her insurance, Priscilla is quick to state how lucky she has been, pointing out that there have only been two claims at the property.

"We've only had a couple of things happen. We've had two different people drive into the wall outside. The first time was about 10 years ago. We knew who it was, which made the claims process simpler.

"The next one was when a lot of work was going on down the lane and they had these big bits of equipment with booms on the back. I think a tractor pulled over to let someone by and the boom hit it. The driver probably didn't know anything about it."

"About 20ft of the perimeter wall caved in. That was quite tall, about 10ft high, and a whole section of it keeled over and smashed my greenhouse."

"Like the house, the wall is listed. So when we came to replace it, we had to use original bricks and lime mortar and put it all back the way it was so it looks in keeping with the rest of the property. I know some really good builders, so once I had a few quotes from them ABG helped me to manage the claim."

When she reflects on all the work that she has put into the property and maintaining it she laughs: "I'm having a holiday from the building – I can't do any more for a while!"