How much would it cost to insure these famous homes
Many of us will be familiar with the iconic homes from popular movies or TV shows, such as Home Alone or Monica's apartment in Friends. You might have even imagined yourself living there and wondered just how much it would set you back to rent each month… But did you ever consider how much it would cost to insure some of the most famous homes?
We've picked our top six famous homes, read on to find out how much these would cost to insure.
HOME ALONE: 
Address: 671 Lincoln Ave., Winnetka, Illinois 60093
Size: Five bedrooms and four bathrooms in its 4,243-square-foot space
£1.5k insurance cost to insure the building, a further £500 to insure a £100k of contents and personal possessions.  
Given what we know about this neighbourhood (especially at Christmas!) good physical security is required to protect against burglars. Theft cover is also going to be essential, along with malicious damage. 
Parents? If you have kids, accidental damage and escape of water might prove useful for moments of adventure… Home emergency cover for £50 extra would be useful for those unforeseen failures. 
The good news is, discounts are available for members of neighbourhood watch.
FRESH PRINCE OF BEL-AIR
Address: Bristol Avenue in the Brentwood neighbourhood of L.A. (around 5 miles from Bel-Air)
Size: 6,438 square feet, with five bedrooms and five bathrooms
£10k to insure this fabulous mansion and grounds. 
Having a pool is a great luxury, but make sure you have liability cover if you're thinking of letting the public come over for a swim.
With the property being big enough for your relatives to stay, be sure you include accidental damage cover. If the mansion is feeling a little out of your budget, consider making sure the property is never left unattended for a discounted insurance price!
BRUCE WAYNE (WAYNE MANOR)
Address: Wollaton Hall & Deer Park, Nottingham, Nottinghamshire, NG8 2AE
Size: 42,500 square feet, 150 acres of land, 11 bedrooms, 7 bathrooms
The bat cave would cost you a cool £20k to insure with its underground parking for your fleet of specialist vehicles. 
Of course, good quality high net worth contents and personal possessions cover would also be required to protect those priceless family portraits and trinkets which have been collected over the generations. 
It would also be sensible to have cyber insurance to protect yourself from the enemy! Don't forget employer's liability cover to protect your household staff at all times. 
A motor fleet policy would also cover your range of vehicles with special discounts available for self only to drive or ride.
RACHEL AND MONICA'S APARTMENT (FRIENDS)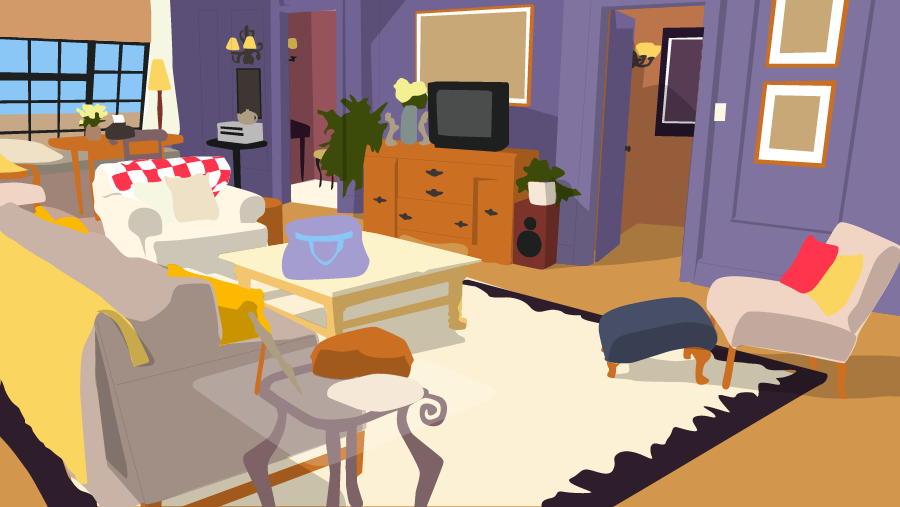 Address: Greenwich Village, New York
Size: 2 bedrooms, bath, combined living/kitchen, balcony
This lovely apartment for you and your friends to hang out in will be covered by the freeholder under their buildings insurance and your contribution will be covered under your annual maintenance charge or fee. 
However, don't forget to get some contents insurance and with so many friends popping around, make sure you have accidental damage included for those little gatherings and mishaps that may happen!

If you aren't handy with DIY (think the episode where Joey becomes a "handy man"!), the home emergency cover might also be a sensible choice.
TONY STARK'S CLIFFSIDE MANSION (IRON MAN)
Address: Point Dume, Malibu, CA
Size: 25,000 square feet, 8 bedrooms, 10 bathrooms
This clifftop hanger of a building will cost a sizzling £50k to insurance.  
This impressive and unique property may be set in a great location with beautiful views, but you'll need to ensure you're projected from impact, fire and storms. Accidental and malicious damage cover would also be sensible for a property of this scale. Just another thing to factor in you wont be able to get coastal erosion cover but hopeful the property is bomb proof!  
This mansion is the perfect setting for luxury parties and corporate occasions, so don't forget your events cover. 
Assuming you're a genius billionaire just like Tony Stark, you'll want to keep your secrets safe and fend off enemies so consider cyber insurance for full protection. 
HARRY POTTER – PRIVET DRIVE
Address: 12 Picket Post Close, Bracknell, Berkshire (actual address)
Size: 1,650 sq ft, 3 bedrooms
£300 to insure the buildings and contents of up to £50k. 
Given the property's last tenants, there's every chance a wizard could strike when you least expect it, so home emergency and accidental damage cover are a must.
In fact, with flying cars or motorbikes and masses of owls being spotted in the area, impact damage from road vehicles (or other flying objects!), as well as pet damage might just come in handy at Privet Drive.