On the same page
"You see over there," Ben Smith, general manager at Cross Country Carriers, nods towards the corner of the yard where a member of staff is jet washing the side of a vibrant blue lorry, "That's John Humphry, our Managing Director. There aren't many companies where you'd find the MD doing that, are there?"
This hands-on attitude has been a key feature of the business since it was first established over 42 years ago. Starting with a single second-hand transit van, the award-winning company now boasts a fleet of 42 vehicles, 70 employees and is number one in the UK Palletways network. They will deliver anything from bottled beer and Turkish delight to supermarkets, to bathroom suites, firewood and quad bikes to people's homes. A recent, more unusual delivery was of a life-size statue of a horse made out of horseshoes!
"We move every single thing you can possibly think of," Ben explains, "There's been a real increase in residential deliveries through our Pallet networks. People are shopping online more and more so that keeps our work really varied – apart from transporting hazardous materials, there really is no end to what we can deliver."
Everyone has a voice
As we walk around the site, members of staff come over to ask Ben a question, give an update or share a joke. It feels like a very friendly place to work. Ben agrees, "The people are my favourite thing about working here. It's a family run business and I think that's what makes it different. Everyone has a voice, whatever their role or level. When staff have ideas on how to improve or develop the business, we will always look at ways to implement them.
"These ideas can be anything. From a large project, like installing an advanced map-based vehicle planning system which provides a more economic delivery route and gives our customers on-demand tracking of their orders, to smaller projects, like making changes to our uniform so they're more practical and comfortable for the staff wearing them."
When staff have ideas on how to improve or develop the business, we will always look at ways to implement them.
A pinnacle point
Ben has overseen many key projects since joining Cross Country Carriers in 2008, with a personal highlight being the company rebrand in 2016. "We are an established business, but I wanted to bring us up to date. We'd had the same look since the company began so it felt like the right time to make some changes.
"We'd never had a logo before and the management team agreed it would be great to involve all the staff to come up with ideas for what this logo could be. One of these designs was using the image of a wolf, due to it's local significance. So, the story is that after the Vikings killed Saint Edmund, a wolf protected the body until he could be laid to rest at the Abbey of St Edmund. We have always been based around Bury St Edmunds, so it felt natural to have a logo that links to the famous legend of our hometown. The wolf also represents our values of confidence, courage, loyalty and integrity.
"The rebrand was a pinnacle point for me because it was like a new start for the business. Bringing everyone together to work on something as important as this put us all on the same track and made a noticeable difference to the company beyond just how we looked. Some people think a logo isn't that important but it was the turning point that helped make us what we are now."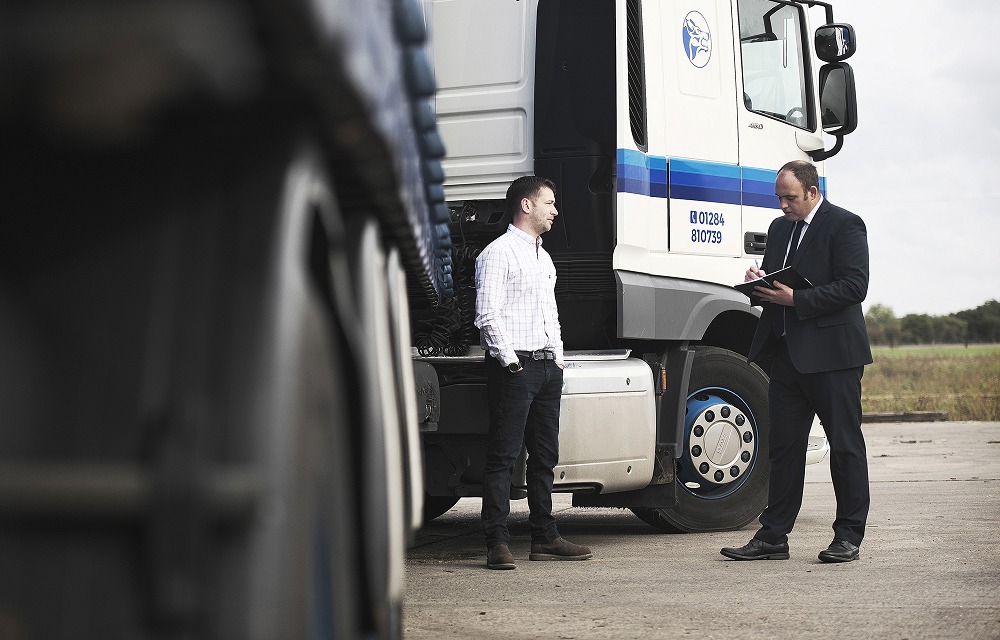 A great working relationship
With the busiest and most important times of the workday happening first thing in the morning, late in the afternoon and into the night, identifying the right health and safety processes to put in place was a challenge for the business.
"We work fast paced in peak periods – early morning, late afternoon and overnight – but during the day it's much quieter. Once our trucks have been loaded or unloaded, there's around 70% less staff on site which reduces the health and safety risk. While we had some health and safety knowledge and procedures, we really needed someone to come in and look at it from outside the box to tell us what we were missing.
"Alan Boswell Group have been our insurance brokers for a number of years and we were aware that they had the Risk Management side to the business. So, we reached out to see what they could do for us. I've built up a great working relationship with Mike [Farrow, Risk Management Adviser at Alan Boswell Risk Management]. He's easy to talk to and has previous experience of working in the transport industry so understands first-hand the challenges we face.
Mike is easy to talk to and has previous experience in the transport industry so understands first-hand the challenges we face.
"He has produced a new health and safety book, re-written and added to our risk assessments and introduced new ways of doing things that are saving us time. One of these procedures has reduced our loading times while making it safer for all staff involved.
"Before, we were having a monthly health and safety meeting, but working with Mike has made us that much more efficient that we only need to catch up quarterly now, so there's a cost saving benefit there too. We trust that Alan Boswell Risk Management will make sure we know what we're doing and that way we're all on the same page. It's working really well for us so far."
Only a matter of time
It's impossible to speak to anyone this year without mentioning Covid 19. The pandemic has caused a crisis that affects both our lives and our livelihoods. How have Cross Country Carriers been coping?
"Although we'd starting making plans for a possible lockdown, like many employers we were worried at the start of March. December and January are the quietest months for us, so we were facing the possibility of our quiet time carrying on indefinitely. During lockdown though, people switched to online ordering – we've actually noticed around a 15-20% increase in online orders against last year due to increased demand.
"If we take the pandemic out, the next obstacle for us is sustainability. With more towns becoming low emissions zones, we've got to start looking ways to make our fleet more environmentally friendly.
"The routing systems we use now are more sophisticated than ever, so you can pinpoint the postcode you're delivering to, which means vehicle efficiency goes up and your carbon footprint goes down. But if places become zero emissions zones we will need to find a new way of doing things, as they don't currently make electric trucks that go for the distance we need. Still, with technological advances, it's only a matter of time."
Looking to the future
It sounds like there's a lot coming up for the business. Ben shares the plans for the future, "Over the next few years we're hoping to keep expanding. We'll never lose our family values and high standards of customer service but we've got a great team here so I'd like to build on that."
And if he had a crystal ball, what does Ben think the business could look like in 2050? He laughs, "In 30 years' time who knows where we'll be? Fortunately, they haven't made robotic trucks yet, so that's great news for us!"