Richardsons Leisure Ltd – The risks and rewards of putting safety at the heart of the family holiday
As we move into peak season for Richardsons Leisure Ltd, it's clear that the safety and happiness of their guests is the absolute top priority. After all, you don't operate a successful business for over 78 years without putting your customers first. 
Richardsons Leisure Ltd has grown since its inception in 1944 by Mr Robert Richardson Senior, then a boat hire company located on Oulton Broad, to become a multi-site award-winning tourist destination. Now comprised of Stalham Marina boating holidays, Wroxham Marina day boats, Hemsby Beach Holiday Park, and a Family Entertainment Centre at Lowestoft, the team have their hands full when it comes to managing site safety and ensuring that every visit goes without a hitch. 
Chris Clarke, Marina Manager at Richardson's Boating Holidays in Stalham, and Justin Ettridge, Park & Customer Experience Manager at Hemsby Beach Holiday Park tell us more about the daily challenges they face, and how they manage the, often complex, health and safety requirements of operating two very different sites with different risks.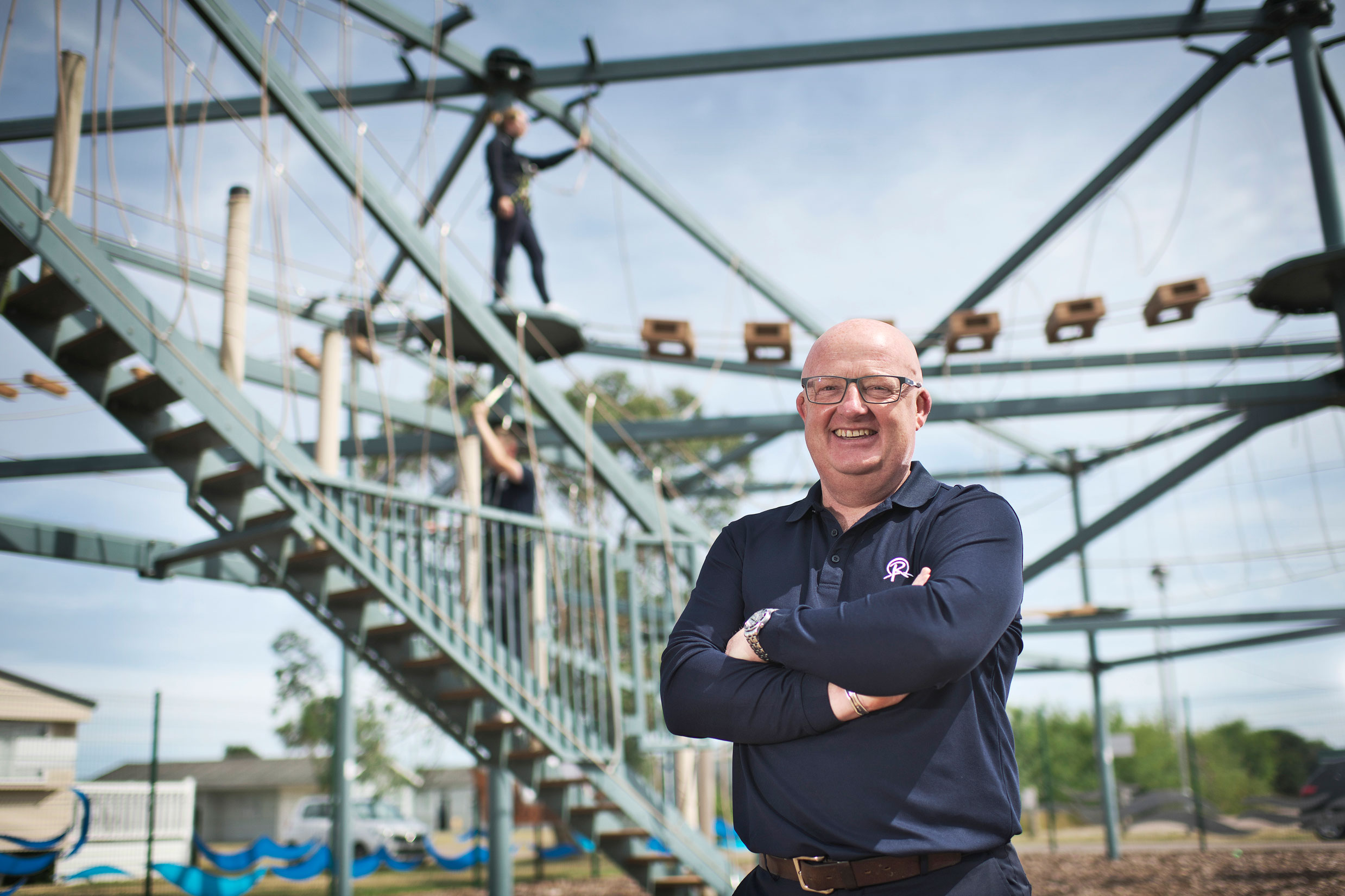 CC "Richardsons is a family-owned business, established in 1944. It all started with the purchase of our first motor cruiser, McNab and from those roots, really, the business grew. We now have over 300,000 people visit us every year between Stalham and Hemsby." 
JE "At Hemsby, we were two parks, we had an adult and family park, which we have merged into one. We've changed quite a lot since I started in 2006, in terms of what we are providing to our guests. 
"We've moved on from the very basic facilities that we provided at the start. Now we've got a high ropes course, swimming pool activities, and a climbing wall. We've got guests who could be 20 feet up in the air dangling from a rope so there are new risks that we didn't have before." 
CC "At the marinas we're concentrating on having a higher standard and quality of boat available. We're selling off some of the older class boats and replacing those with brand new ones. We're hoping to improve the quality of the experience that we can offer our guests across all of our sites."
The pandemic brought fresh challenges
Of course, like most businesses, the pandemic threw certain new challenges at Chris and Justin. Not least, how they would manage the new health and safety requirements as lockdowns started to lift and the staycation market boomed across the UK in 2021.
CC "The pandemic raised significant concerns, but we felt we met that challenge quite strongly as a group with the help of Rebecca [Dingle, Risk Management Adviser at Alan Boswell Risk Management]. We set high standards to protect both our team members and our guests, and we were lucky that, touch wood, we didn't have many cases at all." 
So, what safety measures do Richardsons have in place to protect guests?
CC "As the marina manager I'm totally in charge of health and safety. I'd say it's nearly 100% of my job. 
"We have hundreds of guests going out on the boats daily. We have all types of guests from the elderly and less able to the young and perfectly fit. But the risks are significant, no matter your age or ability. On check-in days I'll walk around the marina to check on our team and make sure they're following the procedures. Before guests go out on the boats they watch safety videos, they'll have an induction and trial run, we'll go through the dangers of specific locations on the river, and of course they are all instructed to wear life jackets. 
"One of the biggest challenges we have is people who ignore the safety measures. 80% of people won't be wearing a life jacket when they come back from their holiday. Slips, trips, and falls from ropes and spillages are always the biggest cause of accidents. This is an area where we get support from Rebecca, when she's on site she'll have a walk around and highlight things that we could improve on." 
Getting a fresh pair of eyes on site to look at our risks is so valuable.
JE "At Hemsby we'll have about 2000 people on site at a time during peak season. So, there are a lot of people to look after. Our guests are on site pretty much all the time, so if they're going to have a slip, trip, or fall it'll be while they're with us. 
"That's really where we get a lot of support [from ABRM]. We have a good dialogue with Rebecca and when we're sending over incident report forms she'll follow up to make sure we're investigating properly. I'll try and pre-empt the questions that I know she's going to ask so that I'm sending over all the information needed, but she's very thorough." 
We're fortunate that I'm not sending over hundreds of [incident report] forms a day, but I think that's because of the measures we've got in place.
Keeping up to date with changing legislation
Of course, running busy sites with complex risks also means that it is important to keep up to date with the latest health and safety legislation and guidance. How do Chris and Justin factor this into their busy working days? 
JE "Rebecca will always update us on any new rules that should or shouldn't be in place. The local council will also give us updates on the operation of our pool, which we'll then discuss with Rebecca to ensure that we are complying with the requirements. There are other companies that operate the high ropes and climbing wall that will also provide us with updates, which we factor into our risk assessments." 
Richardsons Leisure's relationship with Alan Boswell Risk Management
(ABRM)
ABRM have been providing support to Richardsons Leisure for the last six years. What's the working relationship like and where do they find the most support from Rebecca and ABRM? 
CC "All of our risk assessments have been modernised to make them much easier to understand. These are really important for us as they're part of our induction for new team members. 
"Rebecca gives us a fresh pair of eyes and keeps us on our toes. She's also helped us to create an efficient environment where everyone knows where reports go and we've got our team's buy-in so that they're on board with the measures we have in place."
JE "Yeah I'd agree. Our leisure team leaders are excited for Rebecca's visits as they'll prepare a report beforehand and are looking forward to showing it to her for her take. It's really important that all of our team are on board, and Rebecca's approach to giving us the positive feedback as well as what we can improve on has helped us with this." 
CC "We've also had situations in the past where an incident has happened and we've recorded it at the time, but later down the line they've changed their statement. So, our reporting system [also developed with ABRM] is really important, even for relatively minor incidents. This has helped us evidence liability when claims have come our way." 
Richardsons' corporate objective is to deliver their experience in a safe and fun environment, so a comprehensive approach to risk management is key to delivering this. A robust reporting procedure, along with risk assessments, and health and safety procedures all ensure that their guests are well looked after.  
What does the future look like for Richardsons?
JE "Because of the pandemic and restrictions on air travel we were really busy last year. I hope we've given people exposure to what a UK holiday is like, it may not be their main holiday now [that travel restrictions have been lifted], but it's hopefully something they will consider for a short break. We're opening up a lot more pet-friendly accommodation for all of those lockdown puppies people bought, and we've got lodges on site with hot tubs so that people can take a winter break in November and December" 
CC "As Justin has touched on, we're very pet-friendly, about 75% of our boats allow pets. The future is looking promising. We have a strong group of clients that come back year after year which is really good for us."