Bluespace – Building Relationships
I value people. I value relationships. It's one of the things that is really important to us; to build a relationship, to look after everyone, to basically treat people as you wish to be treated yourself.
It may sound like rhetoric, but once you get to know Jonathon Simpkins, Managing Director at creative office design company, Bluespace, it is obvious that this approach to business has been the driving-force behind his success. It's inherent. He's one of life's good guys.
It all started, however, after a rather inauspicious start…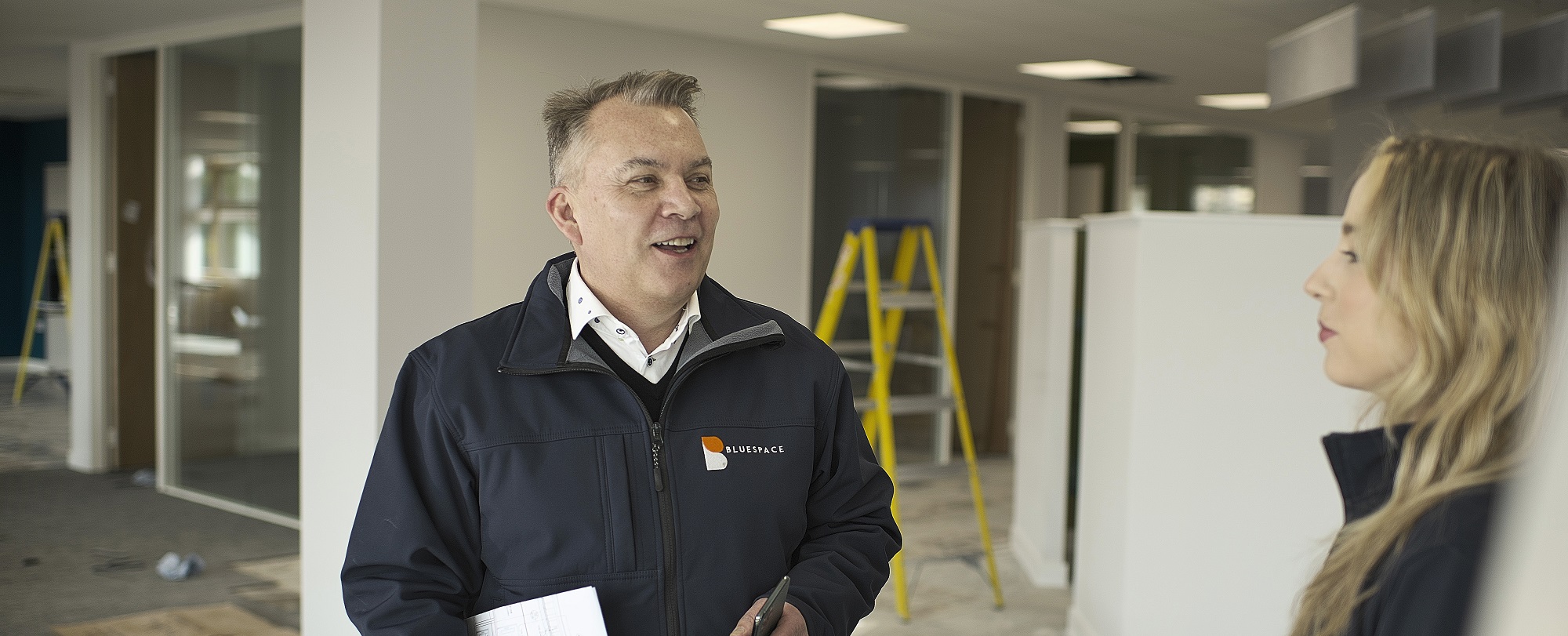 "I was asked to leave school at 16. Too much messing about at school and a totting up of points. I was bright and in the upper classes, but I couldn't apply myself academically. So, I took the first job that I was offered!
"A friend's dad owned a carpet shop and one of his suppliers wanted help on the trade counter. So, I took it. When I was 18 they put me on the road as a Rep. There I was in my 2.3ltr Sierra driving around East Anglia calling on people that buy flooring products."
This is where Jonathon's people skills started to shine. "One of my customers was a company called Interior Systems and, this is back in the 80's, they were, kind of, pioneering office design in East Anglia. They must have seen something in me as they approached me and asked if I would work for them. They trained me up as a salesperson and I worked there for, probably, 13 years.
"I thoroughly enjoyed that time and have fond memories of the owner who took me under his wing. Unfortunately, for various reasons, the company folded, which was sad to see. I then worked for a London-based, interior fit-out company and set up a new division for them in East Anglia."
The relationships he built up over his time with Interior Systems and the London-based company convinced Jonathon that he could do this for himself, so he took the plunge and started Bluespace in 2002.
"I was in my mid-30s. Originally it was quite small; there were only four of us. There was myself, an interior designer, a handyman who could do everything from fitting furniture, to bits of partition wall, and then some admin support.
"Luckily, it wasn't a completely cold start, because the customers that I'd built, both in my first and second jobs, joined me as clients; some of them are still customers today. They invested in me. In fact, I have been to Cambridge today to see one of our clients who was my very first job at Interior Systems."
Facing up to challenges
Any new business will have challenges and dealing with these can be the difference between success and failure. During any kind of economic struggle, it is easy for a company to delay office refurbishments, or even cancel plans completely. So how does Bluespace protect itself from these risks?
I was very focused on keeping the business as robust as possible.
"I was very focused on keeping the business as robust as possible. To build a foundation, for both our clients and from a financial perspective, because our industry suffers with peaks and troughs. Some of our projects can be quite large, suddenly everything finishes and you can have a massive trough. So, I've always been very conscious to build a good financial foundation to be able to fall back on, should you need to.
"Forecasting can be very difficult. We've typically, over the years, only been able to see roughly three months in advance. You've got to ensure you keep your eye on the market and what's happening, understanding when people are moving through lease breaks, for example, can be a good indication they may need support.
"Obviously, I've been doing it for some time now. So, I know the pitfalls, what is right, what is wrong, what the market requires and I'm always trying to look one step ahead in terms of what's happening with trends, what's happening in our industry."
Is forecasting the only problem faced in the industry?
We asked Jonathon what other challenges he faces.
"Talent is a problem. Until recently, trying to find an interior designer in Norfolk was very difficult, because the opportunities here are limited. We have now started to build a bit of a relationship with the Norwich University of the Arts (NUA).  For the last three years they have been running Interior Design BA courses. Filipe has been with us for three years, he came directly from NUA, and Mahisha's been with us for six months. There is some talent coming through now.
"I'll encourage as much creative freedom as possible, but there is a definite Bluespace way of doing business, without a shadow of a doubt. We have worked on our values, we're a close-knit group. We sit in an open-plan office. I don't have my own office.
"It's all about collaboration and communication. During lockdown, we found it difficult to work from home. That was very challenging for us. We had to get back in the office as soon as possible because we share so much information. It's a very collaborative approach on every project that we're on.
"I value people. I value relationships. We've always looked after all our staff, some of whom have been with us for a long, long time. It's one of the things that is really important to us, to build a relationship, to look after people and treat them as you wish to be treated yourself. That's kind of something that runs through the business here.
"It's the same with our clients. Good customers with good relationships. We provide good service. I appreciate good service. The relationships that we've developed are hugely important to us."
Building relationships
It is clear that relationships are a pivotal part of Jonathon's and Bluespace's success. Building a business from scratch meant keeping clients happy and building trust. It's meant that many of his clients have been retained for years, including Norwich insurance broker Alan Boswell Group.
"I think that's a testament to our ability, between us, to build relationships. I mean, we've worked for you as a supplier I think for probably pushing 15 years. So, a long, long time.
"Obviously, we enjoy the service you give us but, I think, it's become more of a friendship. We have such a good relationship with yourselves, with Alan, and with James who looks after our account, you know? I'll quite happily ring him up for a chat or since you're only a few miles down the road I know I can always arrange a face-to-face meeting. We might not talk about football or the Foo Fighters, but I value his opinion on things in the marketplace.
"And again, it's expanded further. We have a number of common clients and we've developed similar relationships. It's important to me, to understand and value relationships. We'll put those relationships before profit. It's more important for us to maintain our relationships than it is to maximise profit out of that transaction and that's truthful."
Doing what you do best
With business set fair it has led Jonathon to thinking about the future and, in particular, going back to doing what he does best.
"The future looks exciting. It's going to be a tremendous amount of work for me over the next 18 months or so. As Jonathan [the new MD] embeds into the business, we have plans to grow in turnover, headcount and potentially geographically. We are looking to, maybe, have another small base somewhere, an hour and a half or so, from here.
"I'm not planning on taking a backseat. I would just like to do a bit more of what I enjoy doing, which is building relationships, being in front of clients, presenting schemes, working with the creative guys here, giving them all my, nearly 40 years' worth, of know-how. And then Jonathan will run the day-to-day, giving us extra room to grow and build more relationships. So, it's all quite exciting for us.
So, you've got to play to your strengths and mine is being in front of people.
"You've got to look at all the different disciplines in your organization. We all think we're designers, but I'm not a designer. We all think we can add up like an accountant. I can't do that. So, you've got to play to your strengths and mine is being in front of people, or being with people."