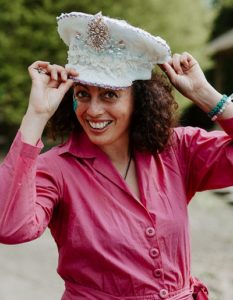 Nathalie Selvon-Bruce set up Buttercup Bus around 11 and a half years ago while on maternity leave. "I had to swap my tiny 'hairdryer on wheels' two seater for something we could fit a buggy in. My husband knew I wouldn't settle for some standard saloon hatchback sort of thing, but when I came home with a 70s cream VW campervan he was a bit surprised!" Nathalie explains, "I started hiring Pushka [the campervan] to help pay for her running costs. We stumbled into the industry at a time when vintage style weddings were really taking off, and so Buttercup Bus was born."
Based in Croydon, Buttercup Bus (https://buttercupbus.com) has a fleet of vintage campervans available to hire for weddings, events, promotional campaigns and self-catering holidays. "I've been fortunate enough to meet a whole spectrum of people and projects and places that I've loved. A memorable one was a celebrity wedding. I took down all the details and wrote down the booking name, Delevigne – I'm rubbish at celebs, so it was just another name to me. Well, the event came round and off our team went into London – my husband was one of the drivers that day, and called me to say there were paparazzi and crowds everywhere. I'd only gone and booked Poppy Delevigne's wedding! Sure enough, the next day the pictures were all over the papers – no mention of the business, of course, but it was amazing to see the vans everywhere!" Nathalie smiles, "Equally, I've been so humbled to work at people's weddings and things like school fetes or charity events. It's such an honour to be involved on these special days."
It's such an honour to be involved on these special days.
The wedding and events industry was one of the worst hit by the Covid-19 pandemic. With lockdown restrictions forcing many events to be postponed or cancelled altogether, Nathalie had to diversify, "We lost over 70% of our turnover in the first 12 months of the pandemic because so many event bookings were cancelled. Moving into different areas is what's kept us afloat. I've focused a lot on online promotion, styling photoshoots and writing articles to get the brand out there. And thanks to the Great British staycation, having the holiday-hire side of the business has been a massive help too – it's kept us going."
The holiday hire side of the business is where Alan Boswell Group come in. What was it that convinced Nathalie to take out self-drive hire insurance with Alan Boswell Group? "Alan Boswell Group [ABG] has been our insurance broker for quite a few years now. At the beginning when I was learning my way through this industry, what I loved particularly about ABG was how flexible the policy was. So I didn't have to do all that paperwork every time I on-boarded someone for a holiday hire.
"When I started Buttercup Bus it was just me. I'm a mum to two kids so every extra bit of admin compresses your day, and you've only got so many hours in the day to begin with! I also like the autonomy that the policy gives me to choose how I operate the business. You want to be sure that you're going to get the number of hires to justify the insurance cost, but it's worked out well for us so far!"
Despite a tumultuous year, Nathalie shows no sign of slowing down, "I'm always looking to increase the scope of what we can do – I've invested in an ice cream freezer and am in the middle of doing my food hygiene level three certificate. I'm looking forward to being able to combine two of my favourite things – campervans and ice cream! I've also got an incredible new van, Beluga, and she converts into a cocktail bar. She's a bit of a basket case at the moment though, getting her on the road is my project for the next 12 months." She pauses, "You know, I consider myself hugely lucky to be in this industry. Its wacky-bonkers-creative and you never quite know what's coming next. It keeps me on my toes, I love it!"
Thinking about purchasing a campervan or motorhome? Have a read of our guide here. 
---