Are the worst of the UK dividend cuts over?
A recent report on UK dividend payments suggests the worst of the cuts may be over.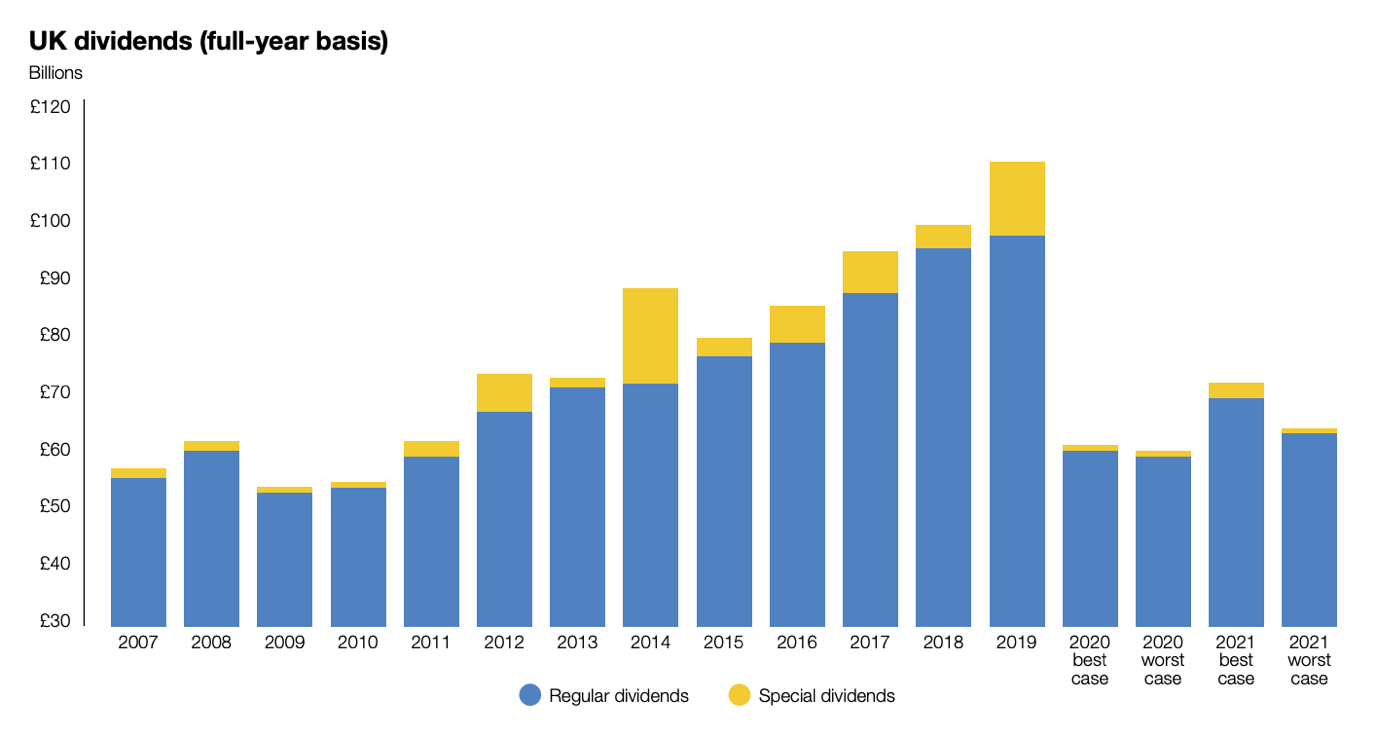 First, the bad news:
In the third quarter of 2020, total (regular and special) dividend payments from UK companies were 49.1% lower than in the same quarter in 2019.
Two thirds of UK companies either cut or cancelled their dividends in the quarter.
One-off special dividends fell by no less than 90% year-on-year in Q3.
Across 2020 as a whole, the fall in total dividends will be around 45%, according to an estimate from Link Asset Services.
If you hold UK equity funds – particularly UK equity income funds – or own shares directly, you will be lucky not to have felt the impact of such unprecedented dividend cuts. As the graph shows, the fall in payouts has been much greater than those following the 2008 global financial crisis.
However, there is some good news:
The fall in the third quarter was less than the second quarter, when the overall drop was 57.2%.
The proportion of companies cutting or cancelling dividends was also higher in Q2, at three quarters.
Special dividends were unusually high in the third quarter of 2019 – nearly quadruple the amount of Q3 2018. This makes the latest comparison misleading.
The pandemic has been going on long enough for any company that needed (or wanted) to cut or cull its dividends to have done so. Some companies, such as BP and Shell, have taken the opportunity to 'rebase' their dividends, a subtle way of saying that the new, lower level is the base for future payments. A growing number of companies that suspended dividends have since resumed payments or promised to do so.
Then there are the big banks. They were told by the Bank of England to stop payouts just before their final dividends for 2019 became payable. According to Link, almost 40% of the fall in Q3 regular dividends is accounted for by this dividend curfew. If – and it is a big if at this stage in the pandemic – the Bank of England allows the banks to restart paying dividends in 2021, there could be a significant jump in regular dividends across the year.
Link estimates that UK regular dividends could increase in 2021 by between 6% in its worst-case scenario, and 15% in the best case. If you are looking for income in a world of near-zero interest rates, both projections are attractive.
---
The value of your investment and the income from it can go down as well as up and you may not get back the full amount you invested.
Past performance is not a reliable indicator of future performance.
Investing in shares should be regarded as a long-term investment and should fit in with your overall attitude to risk and financial circumstances.